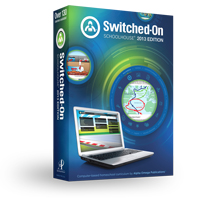 Alpha Omega Publications' Switched-On Schoolhouse® Core Curriculum (Grades 3-12)
With 3-D animation and cutting edge multimedia, the fully interactive Switched-On Schoolhouse® draws students to the computer and engages them in both fun and learning. Features such as automatic grading, record keeping, and lesson planning significantly reduce administrative tasks, providing more time for teacher-student or parent-student interaction. The five core subjects are all here — Bible, Language Arts, Math, History and Geography, and Science — plus a variety of electives.
NEW Features
There are many remarkable advantages to this newly Rewired and Revised version — changes that you, the customers, have requested, including:
Setup Wizard
Revised content
Optional voice automated lesson text
New multi-media and learning activities
Custom projects
Switched-On Schoolhouse®
The core curriculum for the Switched-On Schoolhouse® builds upon the solid foundation of the LIFEPAC Curriculum that has been repeatedly proven in homes and schools for decades. Switched-On Schoolhouse® provides an interactive, multimedia learning environment.
Switched-On Schoolhouse® immerses students in the subject through a dynamic mix of text and multimedia presentations. Questions and activities challenge the student's grasp of the information. Quizzes and test then prove his/her understanding.
Set-up options for customization of the grading system
Built-in answer keys for automatic grading and reporting
Easy-to-use teacher and student menus and at-a-glance controls
Electronic messaging between teacher and student
Holds students interest
Customizable with their library of additional subjects
Minimum System Requirements:
500MHz Processor
Windows 98SE, ME, 2000, or XP
256 MB Ram
250 MB free hard drive space
800×600 screen resolution
16 bit color
CD-Rom drive
Printer recommended