A.C.E. / School of Tomorrow Curriculum
Our First Choice of Curriculums, with Highest Recommendations, It Works!
Since 1970, the A.C.E./School of Tomorrow Curriculum has been a proven and highly successful program which majors on these distinctives: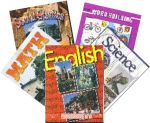 Places child at exact academic ability by diagnostic testing
A solid back-to-basics education program.
A course of study individualized to meet a child's specific needs and learning capabilities.
Incorporates goal setting, character-building, and wisdom principles.
Teaches critical thinking skills.
Encourages parental involvement.
Produces academic excellence.
The A.C.E./School of Tomorrow curriculum is built upon these five basic laws of learning:
Students must be at levels where they can perform.
Reasonable goals must be set.
Students must be controlled and motivated.
Learning must be measurable.
Learning must be rewarded.
We have found this program to have a great impact on the lives of young people, instilling the philosophy of Christian character in their thinking. The curriculum is non-denominational and provides a theistic course of study that not only teaches that the Bible is the accurate Word of God, but also teaches every subject from the Biblical point of view.
The materials are prescribed individually.
A student can move ahead faster or go slower at the best rate for him. He is not locked into a schedule that goes on regardless of whether he has learned the material. Neither is he required to wait for others when he is ready to advance. This is the essence of the mastery system. Individualization makes it possible for each student to master the subject before moving on. Such mastery is the foundation upon which all future learning is built. Individualization produces academic excellence. Students take responsibility for their own learning. Biblical character training received as part of this learning experience prepares students to welcome and accept challenges and future opportunities that come their way.
The materials teach character.
Biblical values and concepts considered foundational to relationships and productive living are conveyed throughout the curriculum in such a way as to become life-shaping influences. Character traits like kindness, loyalty, and honesty, are taught within the curriculum, whether it is Math, English, History, or whatever course the student takes. Students observe character development in cartoon strips and then apply the character lesson to their own lives.
The materials are self-instructional.
Using the ACE materials, a student is able to work on his self-instructional PACEs (Packets of Accelerated Christian Education) even when the parent/supervisor is giving attention to another child. The student can work independently and learn how to take responsibility for learning. Although parents are not required to lecture or make lesson plans, they do need to be present during study times to supervise, motivate, and occasionally explain instructions or lead students in a thought process to arrive at an answer. The ACE curriculum is ideal because it allows students to study individually with minimum assistance.